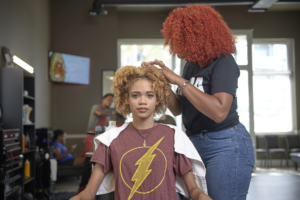 The Whole Shebang: Please see the New Client Page
The Designer Curly Cut: Please arrive with your  hair fully de-tangled (there is a de-tangling fee if excessive de-tangling is needed – over 20 minutes), completely dry, and with a little to no styling products (no oils or heavy butters).
Please wear your hair down with NO headbands, ponytails, braids, buns, twist or braid outs, updo styles, or any style that will stretch your curl pattern.
The Express Designer Curly Cut: Please arrive with a fresh, dry wash and set. Day one or two only. Very Important
ALL Curly Girl Color Services: Please clarify your hair prior to your appointment. Do not apply any products in your hair. It is ok to leave a little conditioner in it. Style in 4 chunky twists or stretch the hair as if prepping for braids. Please arrive with clean, dry, un-tangled hair.
IT IS VERY IMPORTANT TO FOLLOW THIS HAIR PREP:  I have the liberty to CANCEL and RESCHEDULE your appointment if you don't prep your hair as I have requested.